Soundwaves
International Dance Music Awards, Lady Bunny, more
AWARDS! AWARDS! AWARDS!... Despite what you might otherwise think, awards season is still upon us. Later this month the leading dance music awards will be announced -- and even you can vote for them. The Winter Music Conference's International Dance Music Awards (IDMAs) cover pretty much every variety of what is termed dance music, with a few omissions, like techno. There are seven categories strictly recognizing DJs (from those spinning our preferred fast-paced club tracks to hip-hop to Latin), nearly as many recognizing dance artists, and nine singles categories, including best Alternative Rock/Dance, House/Garage, R&B/Urban Dance and Pop Dance songs. Nominated tracks include: Gwen Stefani's "What You Waiting For?," Rosabel featuring Jeanie Tracy's "Cha Cha Heels," Armand Van Helden's "My My My," The Killers' "Somebody Told Me," Destiny's Child's "Lose My Breath," and the Grammy-winning "Toxic" from Britney Spears.
Tiesto and Armin Van Buuren garnered the most nominations, with five each, while Peter Rauhofer, Roger Sanchez and Washington's Deep Dish all earned four. Also representing Washington is Rachel Panay ("Back to Love") as Best "New" Dance Artist (Solo), in a wide-open field with American Idol also-ran Tamyra Gray ("Teardrops Will Fall"?), Despina Vandi ("Gia") and Eric Prydz ("Call On Me") giving her real competition. Besides being the only male, Prydz was also the only artist here with multiple nominations. He was nominated in two other categories as well, so he's truly the one for Panay to beat.
The IDMAs, now in their 20th year, will be presented, as always, in Miami during the 2005 Winter Music Conference, March 22-26, probably the world's largest dance-music event. You've got until March 11 to vote at http://207.150.221.101/wmc0affi/idma/ballot.asp....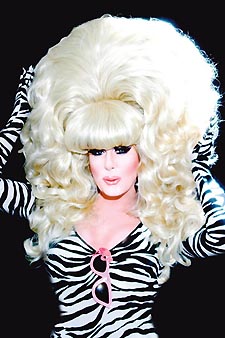 Lady Bunny
LADY BUNNY HOPS... Lady Bunny was one host at last year's DanceStar USA Awards. She may be again this year. And what a year 2005 should be for the Bunny. Look out for her briar patch: if she succeeds, you won't be able to avoid her even if you tried. She kicked off the year down in these parts by performing at Velvet's New Year's Day bash. Now she's gearing up to release several dance singles as part of her revamped Web site, officially launching this month. This includes the track "Sneakin,'" in which she sings, "I look like a billion-dollar hooker, but I'm totally free." Yes, it's the crass and potty-mouthed Bunny you got to know and love through her annual, decades-old Wigstock tranny pageantry. And her purposely bad (or at least predictable) dance music is right in tune with her gaudy persona. At www.ladybunny.net, you can watch a movie of her performance from Wigstock 2003, featuring many of her standard imbecilic musical jokes, from her take on the great dance-popper "It Takes Two" ("It takes two to make my hole feel tight") to her "If You Could Read My Behind." Though not new or all that original, they make you laugh in spite of yourself....
JACKIE CHRISTIE'S BUNION... But wait, there's more: the Bunion -- as Lady Bunny's publicist has taken to referring to her -- also features in another new dance song, "It's Tonight," to be released as a single complete with remixes this spring. The song is but one of several marvelous tracks on the overlooked debut artist album Made 4 U from DJ Jackie Christie. Released last fall, Made 4 U is far from perfect. But Christie, a fixture on the New York scene and former host of MTV's The Grind, shows amazing songwriting ability, especially her work with newcomer Dirty Shane of Discomind (a.k.a. her remix/production partner Shane X. Conroy). The title track is a blazing, ravishing rock-flavored dance tune, with exceptionally appealing computer-manipulated vocals from Shane. It recalls Underworld, and demands release as the next single....
A STUFFED DISCO DUCK... The Bunion -- yes, this is the last time we'll mention her -- also served on a panel discussion that opened "Disco: A Decade of Saturday Nights," an exhibition exploring the history and cultural impact of yesterday's dance music that still endures. If by chance you'll be in New York anytime between now and May 14, stop by the New York Public Library for the Performing Arts at Lincoln Center to see the exhibit, created by the Experience Music Project in Seattle and first presented there. Admission is free....
---