Soundwaves
Avenue D 'Slut' remixes, Depeche Mode, The Cure, DJ Luke Fair,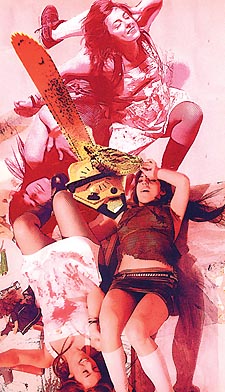 Avenue D
''D'' STANDS FOR ''SLUT''... Enough with all those preening and posing girly-girl dance divas who sing slutty songs you can tell they don't really mean. Avenue D sings and raps about being sluts -- and they leave no wiggle room, so to speak, for you not to believe it. Peter Rauhofer teased us with a barely-there remix of the song on his Live@Roxy4compilation earlier this year. Now his Star 69 label has finally released Debbie D. and Daphne D.'s single ''Do I Look Like A Slut?''
But the label teases us again with seven other barely-there remixes of the song. At least the slowed-down and dirty five-minute electro original is here, in which the girls joke about being good girls who only wear skimpy clothing because they have a threadbare stylist. Only a couple of the remixes incorporate all the ribald lyrics, and only Rauhofer's Sizequeen Remix sticks in your craw, thanks to a short, memorable synth line and his playing with the phrase ''sucks dick.'' But DJ James Andersen creates the remix most primed for today's tribal-tipped gay clubland.
There is a problem with Andersen's ''James Thinks You're A Slut Mix'' though. He strips the original's chatter about a male friend who called the girls sluts, leaving only the girls' verbal retort: ''Honey, don't worry, he's just a fag anyway.'' While Rauhofer deletes that line altogether in both his remixes, Anderson draws your attention to it by immediately following the utterance with an ominous, beat-less bridge. Hearing that on the dance floor will likely jar some listeners, unaware that more gay-positive straight girls than Avenue D would be hard to find. Many Washingtonians first encountered them, for example, when they performed at the WEDRock same-sex marriage benefit concert last fall. The girls were half-dressed (less as the night wore on) as brides for a same-sex wedding, even throwing a bouquet out to the audience after their ''ceremony.''
Later this fall Star 69 will release a souped-up version of the duo's self-released debut Bootleg, a set that includes ''The Sex That I Need,'' a typically vulgar, minimalist, beat-driven song that features an explicitly gay rap from Cazwell. Other songs feature gay-positive, or at least gay-friendly, lyrics as well....
DEPECHE CURE... Two other '80s-originating bands remixed on Warner's Future Retro compilation are set to release new material soon. Pitchfork Media reports that The Cure will start recording a new set this fall, which they hope to release before lead singer Robert Smith's birthday next April. And Depeche Mode will celebrate its 25th year together by releasing Playing the Angel in October. They will also tour in support of the album, and the band's Web site says the band is due in D.C. sometime between October and December, with a firm date to be announced shortly.
The Web site also reveals other good news: The first single, ''Precious,'' is said to be ''quintessential Mode, all cyber pulse and glorious chorus.'' Lead singer Dave Gahan co-wrote only three songs, letting Martin Gore assume his usual role as songwriter on the other nine. And, best yet, the new set is apparently quicker-paced than the previous two Mode albums....
LUKE FAIR'S NEO-DISCO DELIGHTS... If by chance you're looking to hear great music this weekend and you're willing to branch out, even going to the extreme of attending a predominantly straight event where you have to be told how to dress (to impress, of course) -- I said it was extreme -- then get yourself to Club Andalu Saturday, Aug. 13. Luke Fair will spin his irresistible blend of disco-flared house music at this underground house haven located underneath Sesto Senso at 1214 18th Street NW. Visit www.sesto.com for more information.
One of the most promising DJs on the scene and a protégé of D.C.'s Deep Dish, the Toronto-based Fair recently released his second compilation, the winsome OS_0.3. After tapping Fair to open for his DJ gigs earlier this year -- and after Sasha had done the same before him -- John Digweed enlisted him to mix the third set in his own Bedrock Label''s Original Series compilation. Fair prefers to spin music that makes you smile while you dance. He plays full-fledged disco, though not what even a die-hard disco fan would recognize. This is new disco, or neo-disco, which only sounds old. And because it's largely devoid of vocals, it''s positioned to never get old. These are some of the strongest, most intensely melodic instrumental dance tracks you'll find. Halfway through, the ass-shaking party rock of Moonbootica's ''Bulldog Beats'' segues to several delightful disco tracks featuring giddy strings, floating keys, pulsating bass and all-around improvisational jam-band funk. Fair is likely to play even house songs you know -- though it's likely they'll be twisted in a way you'll barely recognize them -- when he spins at Andalu, a hipster's club known for inviting musicians to perform live along to the music....
---