Soundwaves
Dance at Baltimore's Virgin Festival with Amy Winehouse, Danny Tenaglia, LCD Soundsystem, Sasha and Digweed. Plus Mark Ronson, Timbaland
WHEN 'NO, NO, NO' MEANS YES...America had to wait several years, but we've quickly become addicted to Amy Winehouse. The British R&B sensation's single, ''Rehab,'' and album, Back to Black, are both as big as her hair. Or at least, both continue to linger near the top of the charts, a feat few contemporary British singers manage to do here. So far, she's not touring all that extensively in the states, making her stop Saturday, August 4, at Baltimore's Pimlico Race Course for the Virgin Festival all the more a must-see. (It should be a must-see already, of course, with Danny Tenaglia, LCD Soundsystem, Sasha & John Digweed, Felix da Housecat and Booka Shade all performing -- and that's not even all the dance artists featured during the festival's first of two full days.)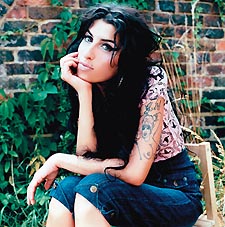 Amy Winehouse
Given the success, it's a bit of a surprise that ''Rehab'' hasn't made much of a dent in the clubs. As popular as the song is itself, especially among gay bar-hoppers -- for, ahem, obvious reasons -- ''Rehab'' isn't a club-burner. The main reason: it's just a bit too slow for peak time on a gay dance floor. The Desert Eagle mix is very much in the same vein as Junior Vasquez's funky remix of Christina Aguilera's ''Ain't No Other Man,'' which got some play last summer. But an additional problem is that the remixes haven't been as widely released as they should. The Hot Chip remix is the only one available at iTunes -- and then only as a bonus with the full album. If you've already done it, it's not worth buying again for this rather pallid remix.
So we might just have to grab another drink and sit a spell: Billboard reports that Steve Mac of the British production team Rhythm Masters has turned in a dark, aggressive and more club-primed remix of Winehouse's wonderful, Shirley Bassey-channeling, title track. Hopefully that will see wide release once the song is ready as a single stateside. Should be soon. And let's hope so: We're more than ready to dance drunk to Winehouse...
WINEHOUSE'S PRODUCER STEPS UP...Meanwhile, the key producer behind Winehouse's Back to Black is hoping to capitalize on her U.S. success. Next Tuesday, July 10, the British-reared American Mark Ronson, stepson of Foreigner guitarist Mick Jones, will release Versions. The album is just the latest in what looks to become a trend in pop music: the producer-as-artist album, in which celebrated producers move from being slightly behind the scenes to being slightly left of center stage. These albums are every bit as disjointed as the DJ-as-artist albums that have littered the dance genre in the past decade, on which singers are only featured as guests -- when they get more than fine-print credit, that is. It's more of a hodge-podge soundtrack than an album telling a consistent story. Ronson did this the first time four years ago, after having produced hits for Sean Paul and Macy Gray. Since then he has helped produce tracks for Christina Aguilera (including ''Hurt'') as well as UK superstars Winehouse, Lily Allen and Robbie Williams -- all part of his work in making funky, horn-driven retro-soul the sound of today's Britpop.
Versions is as much of a novelty as albums get: each track is a cover of a previous hit, including those from Coldplay, Britney Spears, The Smiths and more. It's as good as you'd expect given Ronson's recent work, and it will certainly work to spice and stir up conversation at your next social gathering. The three aforementioned UK superstars are all represented, with Winehouse outshining her competition in covering a tune from British pop-punk band The Zutons -- ''Valerie'' becomes an irresistible R&B jam in her hands...
TIMBALAND NEEDS NEW 'SHOCKS'...''Oh Timbaland, they gonna run to you.'' Pop music's most in-demand producer isn't just being immodest and solipsistic by launching his recent producer-as-artist album with a track noting just how in-demand he is. By sampling and paraphrasing a Nina Simone classic, some might say Timothy ''Timbaland'' Mosley is also being sacrilegious. Beyond that though, the statement is more truth than hot air. Now that his Midas Touch has repeatedly turned out hits for Justin Timberlake and Nelly Furtado, even established acts with respected reputations for songcraft are running to the Norfolk-based producer, from Coldplay to Bjork to Duran Duran to, most famously, Madonna. More often than not, he strikes gold, no matter the artist who hired him.
But on Shock Value, he mostly just comes up with dirt. His sound isn't nearly as original, distinctive or even noteworthy here as it is when his name is relegated to the fine print. The set works best in highlighting the artists he's featuring, though not so much the long-legged model it was clearly intended to introduce. A promotional flyer is included in the CD's jewel case announcing ''Keri Hilson Coming Soon!'' Hilson sings on three tracks here, including current single ''The Way I Are.'' Boring -- next! And next would be the rock acts he's dumped at the end of his 17-track set, especially The Hives and One Republic. If nothing else Shock Value works to show that Timbaland, still best known as a hip-hop producer, can rock, too -- at least with help from some well-chosen friends...
Found on YouTube

Amy Winehouse: 'You Know That I'm No Good'
---