Soundwaves
New Order, Virgin Festival, Amy Winehouse, Sasha and Digweed, Danny Tenaglia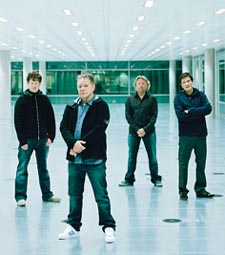 New Order with Bernard Sumner (center left) and Peter Hook (center right)
NEW (OUT OF) ORDER... ''My lawyers told me to shut up till we start negotiating, so it's off my agenda till then,'' New Order's Peter Hook posted to his MySpace page this past Monday. At least someone finally shut him up. Hook first suggested the demise of the pioneering and still influential British synth-pop band in a press interview months ago, which came as a surprise to his bandmates. Then he continued to taunt them by airing his grievances through MySpace. After fellow New Order founders Bernard Sumner and Stephen Morris said the band was still on, with or without Hook, the bassist protested that they can't unilaterally call the whole thing on, since ''I've still got a third.'' As such, ''this group has SPLIT UP!'' But even old Order types know that two against one doesn't work in the individual's favor. So apparently, Hook has resorted to threatening legal action to make sure New Order is good and dead and that the others don't use the New Order name. (But what about Renew Order?) It's not exactly clear what's got Hook's goat beyond a need for special attention....
VIRGIN DANCE... New Order's influence was one of the common threads tying together the DJs in the Dance Tent on day one of the 2007 Virgin Festival. As much as progressive house and trance were the day's predominant flavors of dance, it was synth-based Britpop that formed the underlying core, particularly those pioneers of modern dance music, from New Order to Depeche Mode, both of which got DJ play. (So did Coldplay, though not, oddly enough, the day's headliner The Police, or even Sting.) From Felix da Housecat to Danny Tenaglia to even hard-trance Dutch closer Sander Van Doorn, the Brit stitch was apparent. Housecat and Tenaglia were the most boisterous of the DJs, both regularly taking to the mike and being chatty. If Tenaglia put the bass in our face one more time, there would have been treble.
It was a stellar line-up overall -- not counting day two, when D.C.'s Deep Dish seemed sorely misplaced as the only DJ act not focused on what you might call heavy metal dance, or generally annoying industrial or speedy techno. Each DJ act on day one turned out strong, if not phenomenal, sets. So much so that staying there outweighed checking out LCD Soundsystem or The Police or any of the other festival's carnival-like attractions, including something called ''Incredibly Strange Wrestling.'' Maybe next year. Instead, Tenaglia surprised with an exuberant and well-executed set. And technology wizards Sasha & Digweed proved why they are still near the top of the lists of the most-popular and best-regarded DJs around, a decade or so after having popularized several concepts we now take for granted (from the DJ mixed compilation to high-production DJ events).
What the lineup lacked for in established, explicit gay appeal (with the exception of Tenaglia), it more than made up for in general dance music appeal and sophistication. And then there was the smattering of gay festivalgoers and the overwhelming number of very attractive straight boys and girls. And best yet, unlike at a normal, indoor straight event, men's shirts were often removed and pants and shorts hung teasingly low. If only the lights could have extended further into the crowd, and the music played louder....
FESTIVAL HIGHS AND LOWS... Amy Winehouse was the rare act we actually managed to catch who didn't perform in the Dance Tent. (Though you couldn't avoid the off-key shouts and pealing guitar solos of Cheap Trick.) Winehouse seemed especially bored performing her biggest hit, as if suffering from a bad hangover. Everything about the first day of the 2007 Virgin Festival was high, from the triple-digit temperature, to the prices all around, to this year's estimate of 42,000 attendees on just day one alone....
VIRGIN DJS KEEP BUSY... You wouldn't know it from their performances, and there have been no pushes from their press handlers either, surprisingly. But it turns out most of the Virgin DJs have new productions forthcoming -- which should mean, fingers crossed, they'll spin in the area again soon, this time to specifically promote the work. The second in Sasha's slightly overwrought and definitely more for techies than clubbers Involver series will see release in the fall. The third in Digweed's better Transitions series will be released in late September. It's said to be darker and more minimal than the previous sets, which grow on you after each listen, as you appreciate how much Digweed focuses on the titular drawn-out shifts from track to track. Housecat will release a new artist album in early October. And meanwhile, Tenaglia, who hasn't released a compilation in many years and just one production (last year's tribal gem ''D'Ibiza''), has multiple projects in the works, including another classics set, a triple-disc set commemorating his old New York Be Yourself party and a regular compilation focused on current tracks....
---