Soundwaves
Aqua v. Mattel, FC Kahuna, Cosmo Vitelli, Jack Valenti
LIFE IN PLASTIC... Maybe you remember the warning label affixed to Aqua's 1997 debut album Aquarium (MCA), noting that the Danish quartet's biggest hit, "Barbie Girl," was not sanctioned by the doll's maker, Mattel Inc. Maybe you even remember that that wasn't enough for Mattel Inc., which sued MCA as soon as it got wind of the song, ensuring it notoriety and sales. You've certainly moved on with your life in the ensuing six years, likely not heeding Aqua Barbie's vapid plea to "kiss me here, touch me there, hanky panky." But Mattel didn't move on, taking the matter all the way to the Supreme Court, which has just rejected its appeal. The Supreme Court let stand a federal appeals court ruling that the effervescent song by the still-together-though-rarely-heard-from Danes was parody and social commentary protected as free speech, Billboard reported. Ain't that, well, fantastic?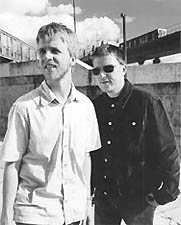 WE GONNA ROCK DOWN TO... FC Kahuna's Machine Says Yes (Nettwerk America) starts off with sun and warmth -- and hilarious inexplicable passages, perfectly evoking '80s synth-pop's playfully uncertain mood. What exactly does the song "Fear of Guitars" mean? And what does the lyric "the pool is full if you get thirsty" have to do with this fear? Whatever: Maybe it's the alcohol talking, but electro -- the music recycling champ -- sounds like the most creative dance style at the moment. A debilitating hangover from our wicked, electro-induced drunkenness may be imminent. But that's no reason for last call just now. And there are at least several more rounds to go, as electro or electro-influenced albums and compilations pop up all over the place. FC Kahuna's album title track not only affirmatively answers, in Magic 8-Ball fashion, your particular question (e.g., Will I dance to this CD?). It also conjures up Atari memories, all jangling and fluttering keystrokes and synthstabs. The title song builds up to be a game of Space Invaders, with the chorus chanting the resigned sentiment of the '80s teenager: "I'm going to stay with you, there's nothing else to do." As much fun as it is, though, FC Kahuna's primitive computer gaming of yesteryear begins to wear and tear on us. "Growler" is a machine that says no -- it sounds like a malfunctioning Pac-Man cartridge, and your system is trying to tell you to ditch it ("Don't understand it," the machine serially warns.) And at that point, you haven't even suffered through the well-named "Bleep Freak." Tiga's album-closing remix of the title song may save the machine from crashing on us, but it is a warning that it's time to replace our antiquated system.
ELECTRO AVENUE... Cosmo Vitelli's full-length debut Clean (Astralwerks) will be in stores Tuesday, and there should be a mad rush to grab a copy. Vitelli has thankfully moved on from FC Kahuna's Atari to create a PlayStation state of mind. Ever play Grand Theft Auto? Vitelli is you as the looting thief, stealing first the name -- Cosmo Vitelli comes from a wacky 1970s film -- and then Monte Carlos and Fleetwoods for fleeing the cops. Playing on the stereo in any car, you'll hear a mix of sounds pirated from Beverly Hills Cop, Pretty in Pink, Pet Shop Boys, Soft Cell and, of course, Felix da Housecat. Vitelli has even "stolen" vocalist Harrison Crump from Felix ("Pray for a Star," the magnificent "Runaway Dreamer"). But Frenchie Vitelli (aka Benjamin Boguet) has built a far warmer environment than Felix did: naturellement, it is, eh, more romantique. True, Vitelli is every bit as pretentious as Felix, but that does come with the pilfering electro genre, which aspires to relive the '80s vibe all over again -- well, mostly just the music, thanks -- as one giant, high-concept party. "Party Day" perfectly encapsulates that sensibility, and it perfectly sells the album, packed as it is with densely crafted melodies oozing with excesses of vocal emotion (human and machine) and layers upon layers of programmatic instrumentation. The winningly wacky music will make you as happy as what is suggestively about to happen on the cover, with the woman dressed up in pink balloons and too much blue eyeliner. You'll pop to this pop, too -- and ride away in your much too fast, little red corvette.
BOO-HOO... "We are not the enemy. We are not at war...I am shaking my head in wonderment at this million-dollar campaign to deride us." That's Washington's own Jack Valenti, the film industry's chief lobbyist, bemoaning the start of what can only be called a turf war over public access to entertainment. Billboard reports that technology companies and advocacy groups have formed a new lobbying organization to counter Valenti and the entire entertainment industry's ill-planned but many-tentacled fight to prevent unauthorized digital downloading of music, movies and books. We say, welcome to Washington, the Alliance for Digital Progress. We clearly are in need of more lobbyists.
---