Soundwaves
Rihanna, Katy Perry, Ida Corr, ABBA, Dolly Parton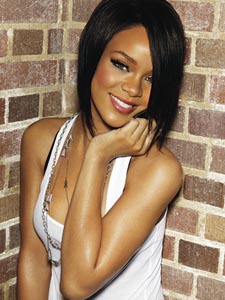 Rihanna
WHAT'S SUMMER WITHOUT RIHANNA?... Another summer has come and gone, and Rihanna once again showed her strength as a summer songstress. But for the first summer in four years, the 20-year-old, Barbados native didn't actually release an album of all-new material. She simply re-released last year's exceptional Good Girl Gone Bad, creating a Reloaded version that included four new tracks. Her initial stab at a Song of Summer 2008 wasn't as strong as her preceding years' tries, either. ''Take A Bow,'' especially the dance remixes, was pretty lackluster, lacking a strong chorus, and lacking the enjoyment of ''Pon de Replay,'' ''S.O.S.'' and ''Umbrella.'' Unfortunately, her last try for Song of Summer 2008 came just a tad too late. Originally slated for Rihanna's next album, due out next year, ''Disturbia'' was rushed released for summer, but not until late June, and it didn't hit the top of the charts until a couple of weeks ago, after at least one other song stole the summer show. (Keep reading for details.) When it's all said and done though, ''Disturbia'' may reign as the song of the year. It's certainly one of Rihanna's very best. She sings about the heavy pull and price of fame, drawing out the deep shades of her expressive voice in a frantic style, with dark music that subtly nods to Michael Jackson's ''Thriller''....
KATY PERRY'S GUILTY SUMMER... So if not ''Disturbia,'' what was the Song of Summer 2008? Unfortunately, it was the intentionally provocative, lyrically bankrupt ''I Kissed A Girl.'' ''Ain't no big deal, it's innocent!'' Katy Perry sang about her lesbian kiss, but she's certainly guilty: guilty of using homo-titillation to gain attention. And damn it if it didn't work. The song spent several weeks atop the Billboard Hot 100, and it also topped the dance charts. Songwriter Cathy Denis (''Can't Get You Out of My Head,'' ''Toxic'') is responsible for the music, which, taken by itself, is as fetching as her usual. But then Perry had to go and ruin it with her lyrics. Whether her boyfriend (Gym Class Heroes' lead singer Travis McCoy) minds it, I certainly do. And I don't feel the least bit sorry for the former gospel singer turned busty pinup model. ''The problem is girls now keep asking for a kiss,'' Perry whined to British paper The Sun. ''After every gig on my tour I stay behind to do an autograph signing. But about a dozen women will want a snog.... If I kissed everybody who asked I'd probably go away with something I don't really want!''' Yeah, like our respect....
SHOULD HAVE BEEN IDA CORR'S SUMMER... ''Let Me Think About It'' should have been the Song of Summer 2008. Written by Danish singer Ida Corr and remixed into a funky, fiery dance jam by Dutchman Fedde Le Grand, the sassy song didn't get much play in clubs, for reasons I can't explain. And when it did get play, it was often just the staccato horn sample from le Grand's remix, supporting a different vocal track. Danish singer Corr's debut album One has just been released in the states, along with a new single, ''Ride My Tempo.'' Time to check that out....
ABBA'S SUMMER LIKE NO OTHER... Katy Perry may have had the Song of Summer, but the summer really belonged to ABBA, like no other summer for the former Swedish quartet in nearly three decades. Among other feats, the all-ABBA Mamma Mia! soundtrack and the 16-year-old ABBA Gold greatest-hits set are topping several Billboard album charts. Plus, Mamma Mia! The Sing-Along Edition is now in theaters; time to see it once more, with feeling! And next month, Universal reportedly will re-release on Blu-Ray Disc the 31-year-old concert-based film ABBA: The Movie....
ABBA DESCENDANTS SEE THE SIGN... ABBA may be once again the hottest dance act going, but another Swedish dance-pop group is also planning to come back -- and in this case, I mean come back together. Though no longer a quartet, and now with just one female singer, Ace of Base is currently touring in Europe, with hopes to hit North America next year. If it happens, the trio of siblings Jenny and Jonas Berggren and Ulf Ekberg will perform new material. Yes, that's right, a fifth studio album is planned for release next year, to include seven new songs and seven re-worked versions of some of their hits, which include ''The Sign,'' ''All That She Wants'' and ''Beautiful Life.'' They've also reportedly commissioned new dance remixes of their hits for a separate remix album....
DOLLY DOES BROADWAY - AND DANCE?... Dolly Parton has turned her 1980 film 9 to 5 into a full-fledged musical. The show just opened for a month-long run in Los Angeles, and it will then make its official debut next March on Broadway. ''You can tell they're kind of Dolly-ized,'' Parton told Billboard about her musical arrangements, adding that most songs are ''mainstream Broadway, but they've got a little Dolly flavor.'' With that and continued promotion for last year's Backwoods Barbie set, Parton is keeping busy. But what could be next? ''I wake up with new dreams every day, and I just kind of follow my gut and follow my heart,'' she told Billboard. ''It may be a country album next, or it may be something completely different. I may wind up doing a dance record!'' She was joking, obviously, but wouldn't it be a hoot to hear her at least try such a feat? Ah, yes, what a way to make a living...
From YouTube: Ida Corr
---