Soundwaves
DJ's and dance divas visit for Pride week, plus Madonna's Hollywood, Sonique, and Jeff Stryker.
THIS WEEKEND, DANCE... You don't have to leave the comforts of your own stereo to enjoy dance music, but this weekend you'll want to. The challenge is packing it all in. Nation, for starters, is offering a double two-fer: two esteemed DJ/remixing duos on two different nights. Friday night D.C.'s own Deep Dish, Ali Shirazinia and Sharam Tayebi, perform at Code, the newly established weekly party to hear high-caliber, world-famous DJs. The two rarely spin locally, but even if they only play their recent fierce remix of Justin Timberlake's "Like I Love You" or the older "Thank You" by Dido, which won them the Grammy for Best Remix in 2001, you'll be the better for having heard them. On Saturday, Thunderpuss storms the decks at Velvet for the annual Capital Pride dance bash. Both Barry Harris and Chris Cox are prolific producers and frequent Velvet visitors, but they rarely perform together. They couldn't avoid playing at least a couple of their many remixes if they tried. You want more options? Friday night at Cobalt, DJ Rob Harris will kick off Pride along with a "Circus" of performers. And Saturday night, after the parade, you could hit Cobalt for its retro tea dance, with resident DJ Jason Royce, and then head to Apex for Liquid Ladies with DJ Alexis J. We're already pooped, and we haven't even mentioned Sunday.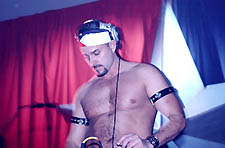 Solieu
Be ready to be out loud and proud under the skies on Sunday. Here's hoping for some actual sun at the Capital Pride Festival, where local DJs Harris and Blaine Soileau will work the turntables between performances on the main stage. It'll be a long day for Soileau, since he's also spinning early Sunday morning at SundayMassDC at Five. At the festival, Thelma Houston, Pepper MaShay, and the just-announced Jennifer Holliday (who will also appear on Friday, June 6, at The Edge) are just a few of the dance-friendly acts set to entertain us. One hopes MaShay will bring along at least one pair of the porn beauts from her Chi-Chi LaRue-directed "I Can't Stop" video.
FEELS SONIQUE GOOD... Thunderpuss may throw us a bone this weekend and play "Can't Make Up My Mind," one of two songs the duo produced for Sonique's sophomore album. The sultry-voiced British singer and DJ superstar has a new album on the way, the long-awaited follow up to her excellent 2000 debut, Hear My Cry (Serious/Universal), which gave us the infectious Top Ten hit "It Feels So Good" and marvelous number-one dance hit "Sky," also a Thunderpuss production. Sadly, we can't report when the new album, Born to Be Free (Serious/Universal UK), which dropped in the U.K. on Monday, will be released in the States. "Can't Make Up My Mind," the first single, sparkles with energy, though it doesn't match our expectations of her -- or of Thunderpuss. The album didn't match some British music critics' expectations, either. Time Out London called it "'dance' music for people who don't like dancing...the spell has broken." Well, we'd like to be our own judge of that.
SHINE YOUR LIGHT NOW… Madonna, whose American career looks to be swept away, will very shortly release the single "Hollywood" from her American Life (Maverick) album that spent one week atop the charts only to fall precipitously ever since. The sooner she releases the single and its remixes -- by Victor Calderone, Paul Oakenfold and Sander Kleinenberg, Billboard reports -- the better. The first single, "American Life," never cracked the top 40, perhaps in part because of its boring, controversy-avoiding replacement video. At least the song was a big dance hit, scoring Madonna's 29th number one dance song, more than any other artist…
LOOK WHO'S UP AND COMING… Ubiquitous "cock star" Jeff Stryker is in a studio recording a "country music comedy" album. The press release on this apocalyptic development is so awash in wordplay  (its headline: "Cornholin' Cowpoke Cuts Country Comedy CD") that at first it looks like a two-month-late April Fool's joke. It's no joke, though. Jeff Stryker and His Soggy-Bottomed Boyz is a bone-a-fide act, and EVI Records will release the group's album this fall, featuring such little ditties as "Ridin' Hard," "Wild Buck," "What a Man Has to Do," and the first single, "Pop You in the Pooper."
Doug Rule can be reached at drule@metroweekly.com.
---