Despite the valiant attempts being made in some corners, the bright bauble of reality television has eclipsed what was once television's most reliable version of junk food.
The soap opera.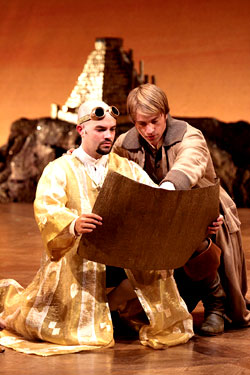 Candide
(Photo by Scott Suchman)
Be it prime time or daytime, the genre that had people rushing to the television to see who killed J.R., what was next for Luke and Laura, Brenda and Brandon, Billy and Alison, is more a reclining starlet than a power hungry diva. Which is ultimately quite sad.
After all, while reality television has much to offer in the way of a voyeuristic sugar rush, when was the last time someone on The Apprentice came back from the dead? Or when a Top Chef contestant revealed that they were actually another chef's half-sister or evil twin?
Enter, from stage left of the Shakespeare Theatre Company's Sidney Harman Hall, Candide. A musical that stretches both the power of suspended disbelief and the presence of logic of any kind whatsoever, Candide is – essentially – made from the same sticky taffy as the best soap operas. It is pure empty calories, offering absolutely no sustenance but a great deal of fun, not to mention a pleasant buzz when all is said and done.
Candide (Geoff Packard) is a young man, raised in the shelter of wealth and privilege, but kept at an arm's length from any true authority by the fact that he is not of noble birth, simply someone whose circumstances landed him in the right place at the right time. Because of that lack of lineage, his declaration of love for the beautiful, vain Cunegonde (Lauren Molina) earns him the scorn of Cunegonde's brother Maximilian (Erik Lochtefeld) and banishment from her father.
From the moment Candide exits the grounds of the estate that has been his home (armed with nothing more than the "all is for the best, in this best of all possible worlds" philosophy taught to him by his mentor Pangloss (Larry Yando), he is greeted by one obstacle, tragedy or outrageous turn of fortune after another. And just when it seems that things can get no more outrageous, no more obscenely ridiculous, they do.
Adapted by Mary Zimmerman – who also directs this production – from the operetta created by Leonard Bernstein and Hugh Wheeler with lyrics by Richard Wilbur and additional lyrics by Stephen Sondheim, John Latouche, Lillian Hellman and Dorothy Parker, Shakespeare Theatre Company has dressed Candide in as many frills and sparkly sequins as possible. Set designer Daniel Ostling has transformed the Harman into an ever-changing series of nesting boxes, each scene coaxing something new and unexpected into view. While every move in his bag of showy tricks is not a total triumph (the show's finale actually feels somewhat anemic after the grand adventure we've been led on) it's one of this season's more memorable visual productions.
Making the most of this funhouse floor is a bright and terrifically agile ensemble. While a clear standout would be difficult to elect, Packard gives audiences a Candide whose naïveté bounces playfully between innocent and simpleton. It's an altogether clean performance, making a good deal of work look fresh and easy.
Taking out all the stops is Hollis Resnik as the Old Lady. Brave and not a little bawdy, Resnik takes full advantage of being able to deliver a performance where doing a "half-assed" job is an excellent thing.
Resnik is well joined by Lochtefeld, whose fey Maximilian is dandy in every sense of the word, and Yando as the pathologically positive Pangloss.
However, that is not to say that Shakespeare's Candide is entirely the best of all possible worlds. There are some fights between orchestra and actor, with conductor Doug Peck occasional racing singers to a song's finish.
CANDIDE





To Jan. 9
Harman Hall
610 F St. NW
$20-$108
202-547-1122
shakespearetheatre.org
GIRL'S GUIDE
TO WASHINGON
POLITICS







To Jan. 9
Woolly Mammoth
641 D St. NW
$26-$60
202-393-3939
woollymammoth.net
There are also some issues when it comes to the creative pacing as well. As the second act heads to its finale the overall production's energy begins to noticeably wane. Candide draws to a close not with an organic, gentle falling action, but with what feels like a kind of exhaustion. It's as though Zimmerman paced herself for a sprint and not a highly spirited marathon.
IN A CITY where words are spun more often than on your average episode of Wheel of Fortune, there is something refreshing about having Hillary Clinton stride onstage to give us all a good "I told you so."
"I would have been a bitch but I would have gotten the job done. I'd have Wiki-leaked it to your fucking face." She would also "…have combined Delaware and Rhode Island and made one really good state."
Okay. Maybe it isn't the actual Secretary of State letting loose onstage at Woolly Mammoth Theatre Company as part of The Second City's A Girl's Guide to Washington Politics, but you can kind of picture her saying it.
A rapid-fire collection of skits, songs and double takes, Second City is out to prove that it's possible to make the trip from Illinois to the nation's capital and still maintain a high approval rating.
This phenomenally connected ensemble — comprised of "girls" Brooke Breit, Lili-Anne Brown, Lori McClain, Rebecca Sohn and boy Joey Bland (because someone has to perform the cheating senator ballet) – delivers smart, sharp-edged satire that could even move a Tea Party conservative to lighten up.