Molly Smith remembers well her first encounter with the work of Edward Albee.
"The Zoo Story is one of the first plays I ever read," says Smith, artistic director of Arena Stage: The Mead Center for American Theater. "And it took the back of my head off. Because of the power of his language and his ideas. He's a writer who has influenced so many people in the theater, whether it is performers who have played his roles, or the directors who have directed his work, or writers. We've all been influenced by him. … His ability to create unforgettable circumstances and deep character work makes him a giant in American literature."

And the giant that is Edward Albee is receiving a showcase at Arena unlike any other in the 83-year-old playwright's history. "The Edward Albee Festival" includes full productions of two of the playwright's early masterpieces: Who's Afraid of Virginia Woolf?, an import from Chicago's Steppenwolf Theatre Company; and a revamp of the one-act play that started it all for him, The Zoo Story, overhauled into a full-length production, At Home at the Zoo. (See Kate Wingfield's review.) In addition, the festival is hosting staged readings of Albee's entire canon – from 1966's A Delicate Balance to 1990's Pulitzer Prize-winning Three Tall Women, from 1974's Seascape to 2002's incendiary The Goat, or Who is Sylvia? All 30 works – every single one of them.
"It's the first time his entire body of work is being read," says Smith. "So when I'm inside of the new Mead Center, I look up in the air toward the roof and think, 'Oh, my God, all his words are going to be floating here over the next two months.'"
Albee's plays are not known for their warmth – nor, for that matter, is the man himself. His public persona is perhaps best characterized as cool, remote, even a bit cranky. And yet the man, though notably blunt in a one-on-one conversation, is a lot less terrifying than you'd imagine. He's almost a lamb – albeit a lamb in Woolf's clothes, one might say.
"He's not warm and cuddly," says Michael Kahn, artistic director of the Shakespeare Theatre Company. Albee gave Kahn his professional start in the early '60s, hiring him to direct several off-Broadway plays presented by Barr-Albee-Wilder (a producing collective founded by playwrights Richard Barr, Albee and Clinton Wilder). "But he's a lot mellower now. He's very nice these days."
Playwright Terrence McNally – who spent five years romantically involved with Albee beginning in the late 1950s – notes that "[Edward] projects a kind of crusty exterior that intimidates a lot of people. Underneath that is someone who is not only a wonderful writer but is very passionate about the future of theatre. He's spent a lot of time and money over the past 60-odd years teaching and funding young writers."
"One of the most extraordinary things about Edward," adds Kahn, "is that when he became a famous writer and had money, was how much support he gave to young writers. … It's an act of generosity which he never really ever talks about."
"He doesn't toot his own horn," says McNally. "He has been a great believer in reinvesting his time, energy and resources into the next generation. You can't say that about a lot of other writers. And that certainly is not crusty. That's very loving and compassionate and very concerned about the future – what's going to happen after him."
As for Albee's methodology, says Smith: "He's the great provacateur. He's a restless experimenter. He is fearless about form, fearless about going into areas of human nature that most people would move away from. And that's what makes exciting theater – he will go into areas of the human psyche through his own imaginative power, and reveal the complexities of who we are as human beings."
"He's a great, great craftsman of language," adds Kahn. "On a simple level, Who's Afraid of Virginia Woolf? is, I would say, one of the five or six great plays of the American 20th century theater. There's no question in my mind. It's an extraordinary play, for its language, for its sensibility of what relationships are like, and for its mystical symbolism in what essentially seems a realistic play."
"Edward's use of language makes him very very unique," says McNally. "He writes the American language as opposed to the English language. He has an incredible ear. No one writes better dialogue than Edward."
Concludes Smith, "He is pointed. He is specific. He is brilliant in his thinking. It's just a pleasure to be able to honor him."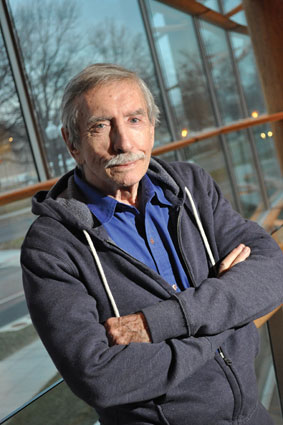 Edward Albee
METRO WEEKLY: I was surprised to discover you were born in the D.C. area.
EDWARD ALBEE: I think I was born in Virginia. I believe I was adopted from Washington, D.C. I was left at the orphanage's doorstep by a woman named Frances – I can't remember her last name now – an unmarried lady who had me and couldn't take care of me. I know only that about her. And I know nothing about who my natural father was. I wish I knew who my father was. I just sort of would like to know where I get my bizarre mind from.
So I was put up for adoption when I was a week old and was adopted by a wealthy theatrical management family involved with the Keith-Albee vaudeville circuit up in New York. They were childless and the patriarch of the family – old E.F. Albee wanted a grandson. They couldn't have one, so they went out and bought me.
MW: It's well documented you had a rough childhood.
ALBEE: I was never very happy there. They gave me everything money could buy – they had a lot of money. They gave me a great education. Great schools. I'm endlessly grateful for being given a really fucking great education in the arts and many, many other things. But I was never particularly happy with them. I never felt that I related to them in any way, and I didn't feel that they related to me, which allowed me, I think, to grow up with much more objectivity than most kids do. I'm grateful for that, too.
MW: When did you first realize you were gay?
ALBEE: I discovered very happily that I was gay when I was 12 and a half. It helped being away at an all-boys prep school. There were nothing but boys there and they were all as randy as I was. And none of us was gay, of course. We just spent all of our time doing it with each other because we were the ones available to each other. I had an absolutely lovely time. I had none of this panic or regret or all this misgiving about being gay or queer. None. I loved it. I thought it was wonderful. And you know, you had to do comparative things, so I got engaged and had relationships with women, too, but I knew deep down that it was men that I liked. And I was very happy with that.
MW: Granted, that was a time when people didn't discuss their private lives much, let alone homosexuality.
ALBEE: Nobody discussed it. We just did it. [Laughs.]
MW: Yet was there an occasion at which you told your family?
ALBEE: We never discussed it. There were many things they never discussed with me – that being one of them – but I didn't feel close enough to them to impose on them to discuss anything, not that I felt I needed any discussion about it. I was perfectly happy growing up, writing my terrible poetry, and having sex with guys.
MW: Your play, Three Tall Women, addresses your relationship with your adoptive family – well, the mother, at least.
ALBEE: Yes, it examines that woman who was my adopted mother quite accurately and quite carefully and, I think, quite fairly. It's not a revenge play. Nor is it a love letter. It's a pretty accurate statement of what that woman was like and what she went through, being herself.
MW: You left home at 18.
ALBEE: I took a very, very long journey from Larchmont, New York – 21 miles – to Greenwich Village. The longest journey that any human being could ever take. [Laughs.] And one of the greatest for me. It was a freeing experience to be in New York, in Greenwich Village, not only with gay people, but with creative people. It was a hotbed of creativity in New York in 1948 or whenever it was. God, that was wonderful.
MW: So the move served as a liberating experience for you.
ALBEE: Oh, it was. I was me. I was behaving by my nature. I behaved like who I was.
MW: What did you do before settling into playwriting?
ALBEE: I had a tiny little income from my paternal grandmother, who left me a very, very small amount of money which the family, after I left home, doled out to me in sums of something like 25 bucks a week. And I had a bunch of odd jobs just to keep me in beer and cigarettes and things like that. I just had a wonderful time growing up and meeting people and learning more about all of the arts. Having a really great time and having good sex with a lot of people. And meeting my first lover.
He was a composer named Bill Flanagan. He was about eight or nine years older than me. He helped me grow up, taught me an awful lot that the son of a rich family in Larchmont couldn't possibly have known. A very, very bright guy and a good composer. We had a good eight years together.
Bill and I parted, and then he died shortly thereafter. After another playwright and I – Terrence McNally – had a five-year relationship, in which we enjoyed each other's company and each other's work a lot, I had another period of maybe a year or two of bachelorhood, and then I met a graduate student who had gotten his degree in pure mathematics. And I was smitten. I think I fell absolutely, fully in love. This is it. Forever. I was right. We spent 35 years together. And then he got cancer and died. But that's as close to a lifetime [with someone] as anybody gets.
MW: What made you give playwriting a shot?
ALBEE: I was failing at all other branches of writing. I was writing poetry when I was 10 and I quit when I was about 18 or 20 because I wasn't getting much better. And I wrote really terrible novels and not very good short stories.
I had tried all of the arts. I failed at being a composer. I'd listen to J.S. Bach and I thought, "Well, anybody who could do that, that's what I want to do." But I discovered very quickly that Bach did it a great deal better than I did, and I would never be anywhere near as good as any of the composers I admired. And I was a terrible painter.
But I was a writer. And I thought maybe I could be a little bit better as a writer. When I was 28 I wrote a play called The Zoo Story and my life changed. It was the first thing I'd ever written that I knew was good. I looked at it with my usual objectivity and I said, "You know, Edward, this is a fucking good play. Maybe you should be a playwright." And I've kept on.
MW: How difficult was it to get produced at the time?
ALBEE: [Zoo Story] was done in New York about two years after I wrote it and a year after it had its world premiere in German in Berlin due to a whole set of circumstances that are really too tedious to go into here. For its New York premiere, it was on a double bill with Beckett's Krapp's Last Tape. Some people liked the Beckett play more than mine, some people liked mine better than the Beckett play. But they both seemed to get good reviews and the damn thing went on for three and a half years off-Broadway.
MW: How did your life change at that point?
ALBEE: Well, I stopped being a Western Union delivery messenger. I gave that up. And I was free pretty much to do whatever I wanted to do, whenever I wanted to do it. And so I kept on writing plays and have ended up with 30 of them so far.
MW: Interestingly enough, 40 years later in 2009 you wrote a first act that serves as a prelude to the action in The Zoo Story.
ALBEE: Well, it makes Zoo Story a better play because it makes Peter in The Zoo Story a more three-dimensional character. And the two acts together form one play called At Home At the Zoo – a much better play than The Zoo Story was by itself.
MW: Did you change anything in Zoo Story over the years?
ALBEE: I don't believe in second-guessing myself.
MW: Once it's done, it's done.
ALBEE: Yeah. I make cuts in rehearsal, and things like that. Or if I get bored seeing a production, I realize I should take out that sentence or that paragraph, I'll do it. But I don't believe in rewriting years later something I've done, because I'm not the same person [as when I originally wrote it].
MW: A few years after Zoo Story, came Who's Afraid of Virginia Woolf? It's the play you are most known for by the general public.
ALBEE: I guess so. I mean, once you've had a play made into a big movie with Elizabeth Taylor and Richard Burton, it's pretty hard to top that in public awareness. Is it the best play that I've written? I don't know. It's not a bad play. I'm very happy that I wrote it and proud that I wrote it. It's a damn good play. Is it the best? I hope I haven't written the best one yet.
MW: It's hard, I think, to mount a play that had a movie version that's so iconic, so indelible. The actors have an extra amount of heavy lifting to do because they have to overcome the screen performances forever etched in our minds.
ALBEE: Well, the movie was nicely directed by Mike Nichols, but I think there were a couple of casting mistakes. You can't have Elizabeth Taylor at 30-years-old playing a 52-year old woman when Richard Burton, who was 48, is playing someone 6 years younger than her character. You don't get away with it. When I went out to Hollywood to talk to them about making a film of the play, I said, "Who do you want to put in it?" And they said "We're buying it for Bette Davis and James Mason." They were the proper age and everything. I said, "Okay, in that case, I'll let you make a movie of it."
MW: But when they changed the casting?
ALBEE: Well, there was nothing I could do about it. I had a contract, but I didn't have it stipulated in the contract that Bette Davis and James Mason had to be in it. I was naive. I trusted that what people said in Hollywood had some truth to it.
MW: There are a lot of playwrights who disavow themselves from the movies made of their works.
ALBEE: I was very lucky. I didn't have to disavow it because there was nothing to disavow. Mike did a very, very good job of directing and everybody acted well and it was a fine film. They did my lines all right, you know? They didn't fuck up with my script or anything.
MW: One of your more recent plays, The Goat, is a controversial, disturbing work. Watching it, one thinks only Edward Albee could have written this. I'm curious, what prompted you to create such a provocative piece of work?
ALBEE: [Laughs.] Dumb luck.
MW: What, you woke up one day and said I'm gonna write about a guy who falls in love with a goat?
ALBEE: No, not really. I don't know really why I end up writing the plays that I do. I write them to find out why I'm writing them. I get ideas for things that I give to characters to figure out how to get out of the problems.
MW: Do you feel your characters learn?
ALBEE: Some of them learn better than others. If they don't they screw up even more.
MW: What about you? What do you learn?
ALBEE: What I learn most is how well or badly I'm practicing my craft.
MW: What do you want the audiences to take away?
ALBEE: Imagining themselves in the same situation. Transferring it to themselves. Wondering how they would have behaved. How any guy going to see the play would behave if he had seen a goat and fallen in love with it and found that he was going to have sex with the goat, what he would have done, how he would have handled it. You have to imagine yourself in the same situation.
MW: When you start a play, do you have a structure in mind or do you allow your characters define the narrative through their own actions?
ALBEE: Both. I'm in complete control of structure of the play, complete control of whatever happens to the characters, but I have to pretend that the structure of the play is determined by their free behavior.
MW: Have you ever been surprised?
ALBEE: Oh, always. Otherwise you would just be typing.
MW: Of all the works you have written, do you have one that you are most fond of?
ALBEE: I'm rather fond of the one I'm writing right now. Because I haven't made many big mistakes in it yet.
MW: What is it?
ALBEE: It's a play.
MW: Can you say what it is?
ALBEE: It's a play. I just did. It's a play.
MW: I mean, what's it called?
ALBEE: I don't even want to give away the title at this point. What if I changed the title?
MW: Good point. Your birthday is two days after our issue comes out.
ALBEE: Oh, stop it.
MW: You're into your 80s now.
ALBEE: I've noticed. [Laughs.]
MW: How does it feel?
ALBEE: Well, it feels better than not getting there, I can tell you that. I'm still working. Still having a very happy life. Still involved emotionally with somebody new now. I'm enjoying what I do and who I am, I guess. I think it's an awful lot better than not being around.
MW: You've seen quite a bit of history – in particular, a lot of gay history. You've seen enormous changes in your lifetime. Can you reflect a bit on how you feel about some of those changes with regard to the LGBT movement?
ALBEE: Well, you know, it's very, very nice that gay people are not being lynched the way blacks were back in the really terrible days. But gays are still subject to the same prejudices and the same ill-treatment and the same second-class citizenship that a lot of other minorities – blacks, Jews, Muslims – are subject to.
One thing does trouble me. I don't think that gay people are any different from anybody else, because I don't think where you put your dick defines anything about your nature. Where you put your dick merely defines where you put your dick, right? I don't understand at the same time why so many gays want to be exactly like so many of these awful breeders – these awful hetero types who really behave appallingly. Why do all gay people wish to vanish into this society? Is it self-protection? I don't know. I just don't want us to be forced to think that we must imitate other people and behave the way they do in order to become invisible.
I had a 35-year relationship. Were we married? Yeah, I guess we were. We certainly felt that we were. We certainly treated each other like we were married to each other. Did we ever feel the need to get a marriage license? No, of course not. We knew we were married to each other. All this legality that people seem so involved with nowadays, it troubles me just a little bit. I understand all the problems to come with wills and families denying access to the loved one and all of that, but come on, do we really want to be exactly like straight people?
MW: But those are very real situations, real problems for some people.
ALBEE: Yeah, and those problems should be solved, of course. There should be nothing legally standing in the way of two people to be married if they wish to be, of course.
MW: Going back to something you said a moment ago, I think being gay is more than just where you put your dick. I think being gay is actually an emotional attachment to the person of the same sex.
ALBEE: What is the difference between emotional attachment of a guy to a guy and emotional attachment of a guy to a gal? What's the difference?
MW: Are you saying there's no difference? I suppose, from a basic, human standpoint, there's no difference. Our opponents would cite the differences from a reproductive standpoint – you know, "It's not the way God intended it to be, it's unnatural."
ALBEE: I would like to meet God someday so that I can ask him whether he really feels that way about homosexuals. I can't imagine a God who would be that prejudiced.
MW: Well, what if you did meet God? And what if God said to you, "Actually, homosexuality is unnatural. It was a mistake and I didn't mean for it to happen." What would you then say to God?
ALBEE: I would say, "Grow up." [Laughs.]
MW: Back to playwriting – you never seem to have boxed yourself into a specific type of playwriting.
ALBEE: Of course not.
MW: Yes, but there are a lot of playwrights who are content to do just that.
ALBEE: Yeah, I know. It's a lot safer, and you tend to make more money by doing it.
MW: But sometimes even the most mundane playwrights take a courageous, artistic leap and suddenly create a great, lasting piece of work.
ALBEE: And it's nice when you see people do that.
MW: I guess my point is, you took the leap from the very beginning.
ALBEE: I didn't know any better. [Laughs.] When I started growing up in New York City and seeing theater there, I was seeing Beckett and Ionesco and Pirandello and Brecht and Chekhov. I was seeing all the great ones. Those are my influences. The Broadway comedy and the musical were never my influences. I couldn't afford to go see that stuff on Broadway. I was going to off-off-Broadway all the time to see really great, wonderful experimental plays for two or three bucks a ticket.
MW: How much was a Broadway ticket back then?
ALBEE: Seven dollars.
MW: Wow! Now they're like $150 and up.
ALBEE: The commerce of our theater is destroying itself.
MW: You're talking about something like Spider-Man on Broadway?
ALBEE: I'm talking about putting a play on, not because it's a fucking good play, but because you think it will make a bunch of money. And that's why most things get produced. It has nothing to do with quality. It has to do with commerciality. That's why most things get done. That's why most movies get made and that's why most books get published.
MW: But hasn't that always been the case?
ALBEE: More and more so. More and more.
MW: But less so in the '60s and '70s?
ALBEE: Less then, yes. That was really exciting. Everybody was starting out. We were all beginning. Everybody was doing something exciting and nobody was famous yet and nobody sold out yet.
MW: Has culture in this country been replaced by commerce so completely that we don't have much in the way of artistic sensibility left?
ALBEE: I think commercial success is more highly valued these days than artistic honesty.
MW: You mention musicals, but you were involved with one in 1966 – Breakfast at Tiffany's, starring Mary Tyler Moore, Sally Kellerman and Richard Chamberlain. You were brought in to rewrite the book. It never made it out of previews.
ALBEE: Well, if they'd given me more than three weeks to rewrite the show completely and get it back up on its feet with a different cast and a different director and a lot of different actors…. I think if I'd been given another two weeks, I could have done it. But I didn't. And it was a very interesting failure. I think if we'd all begun without having to try to fix something that was irrevocably broken, we would have gotten somewhere. But we had two jobs there: Fix the thing that's broken and also make it new. And you couldn't do both. At least not in three weeks.
MW: Everything that you do, since it's your name, you put effort into it, you put care into it, you put creativity into it. Sometimes you have a huge hit, sometimes you even win a Pulitzer. But sometimes you have a flop. How do you deal with the flops?
ALBEE: One of the things you have to learn very quickly if you're going to survive in the theater ­– or in any of the arts – and I mean the serious arts – is that the way people respond to you, to what you do, doesn't necessarily have very much to do with the quality of what you've done. Some of your best stuff can be condemned and some of your less-ambitious things will sail right through. You can't worry about that stuff. As long as you do your own job as honestly and well as you possibly can, you can't be responsible for the minds of critics or the taste of an audience. You can't be responsible for those things because you're not a servant.
MW: But how do you not take it personally? How do you get past it if it doesn't work out?
ALBEE: You sigh heavily, shrug and say, "They'll figure it out eventually."
I'll tell you one interesting thing. A number of my plays got some rather nasty reviews when they were first done. Later productions invariably have been received a great deal more enthusiastically and favorably. Gee, have the plays changed? Have the plays gotten any better? No. They're exactly the same experience. Maybe people are ready for them now. I don't know. I don't worry about it. As long as I think I'm writing well and doing my job properly, sometimes people will say "yes", sometimes people will say "no" and the next time, maybe 15 years down the line when it's done again, those people who said "no" might say "yes." So, it's a crapshoot.
MW: Over the past decade, the one popular art form that truly has matured is television.
ALBEE: It's almost catching up with live theater.
MW: It really is, both in terms of story and character development. I was a big fan of the narrative complexity of Lost, for instance.
ALBEE: I don't know the piece. Was it as good as Golden Girls?
MW: The Golden Girls? Really? I would have never guessed.
ALBEE: I love The Golden Girls. I watch reruns all the time. It's fucking skillful, that show.
MW: Okay, I have to know what Edward Albee thinks is skillful about The Golden Girls.
ALBEE: Probably that everything that happens you expect it to happen but it's believable, given the limitations and definitions of the characters. I don't find them ever stretching into something that is unbelievable. And I think there is some pretty wonderful, sly humor in that show. Very, very splendid work.
MW: If you were starting out now, do you think you would have been a good match for TV?
ALBEE: I don't like to do anything where I don't get to do exactly what I want. So I think I would have had a few problems. I don't like to be told how to write, what I can write, what I can't write. I don't like formulas. I don't like being an employee. Let's put it that way.
MW: Are you saying the playwright is the employer in a sense?
ALBEE: A playwright these days has to fight hard against being thought of as an employee. I just wish more people who are producing plays would remember that they would have nothing to produce without the play and that they should pay a little bit more attention to the playwright.
MW: That's good advice.
ALBEE: Yeah. Nobody takes it.
MW: What about you? Do you have trouble getting things produced?
ALBEE: No. But then again, more than half of my plays have been done off-Broadway rather than on Broadway. Some were done in Europe first rather than in this country. But I have no complaints. I have been treated – not necessarily always fairly, but not bad. I've had a better life at it so far than most people have.
MW: Last question: What is the best thing for you, personally, about being a gay man?
ALBEE: [Laughs.] You get to go to bed with guys.
The Edward Albee Festival, including full productions of At Home at the Zoo and Who's Afraid of Virginia Woolf?, runs through April 24 at Arena Stage: The Mead Center for American Theater, 1101 6th St. SW. For details, call 202-488-3300 or visit arenastage.org.
On March 14, Albee will be honored with Arena's American Artist Award at a benefit for the company's community-engagement program. Tickets start at $500. Contact Julie Lombard at 202-600-4032.
Read an outtake from this interview — Edward Albee on why critics should read the plays they review — at our arts and leisure blog, Spotlight.