D.C.'s ARCHITECTURAL AMBASSADOR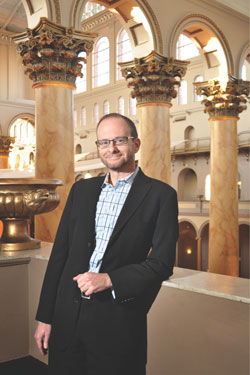 Martin Moeller: Building Musem
(Photo by Todd Franson)
MARTIN MOELLER IS certainly a proud Washingtonian, having made the city his home for 28 years. But he never expected to become an expert on Washington architecture. In fact, before he moved to D.C., Moeller didn't have designs on either his exact profession or his exact location.
"When I was young, I expected that I was going to be a practicing architect," says Moeller, who grew up in Louisville, Ky. "I was one of those kids who was sketching plans, buildings, when I was very small."
But after graduating college in New Orleans in the Reagan-era mid-1980s, Moeller wasn't about to move back home. "Let's just say as a gay, vegetarian atheist," he chuckles, "Louisville didn't seem like a really good place – at least not at that time." Moeller instead stumbled on his first job in the nonprofit sector, working for the D.C.-based Association of Collegiate Schools of Architecture. "I thought I'd do that for a year or two and then I'd go into practice," he says. Instead, Moeller never moved away from supporting the architectural field by virtue of academic or associational nonprofits. And he never moved away from D.C.
"When I moved to D.C., I have to admit at that time I was a little skeptical," he says. "I kind of thought I might end up in a larger city, either New York or someplace in Europe." But even though the city was still suffering through urban flight and blight, Moeller says, "I felt like the roots of positive change were already there. Certainly for 20 years, if not more, it's just been a positive climb." During that time Moeller has lived with his partner Steve Dickens – a fellow Tulane University graduate who is a practicing architect – near the recent 14th Street revitalization boom in the Logan Circle area.
"I think it's always been overstated that Washington is a government town," says Moeller. "It really hasn't been like that for a long time. It's becoming more of a real city every day, really developing its own culture, architecturally and otherwise."
Moeller, who has also previously served at the helm of the Washington Chapter of the American Institute of Architects (AIA) and what is now called the Washington Architectural Foundation, has literally written the book on D.C. architecture. He's written both the fourth and the just-published fifth editions of the AIA Guide to the Architecture of Washington, D.C. Moeller says he wrote the guide for the general public as much as for architects, with an eye toward giving Washingtonians history or context, "to help them appreciate [architectural buildings or details] that they see all the time; those that they might walk by and say, 'Oh, that's an interesting building."'
An independent project apart from the Building Museum, the book nonetheless helped inspire the museum's recent "Unbuilt Washington" exhibit, which Moeller curated. And Moeller's local expertise – he also edits the Washington Chapter of AIA's quarterly magazine ArchitectureDC – will be put to further use in a forthcoming revamp of the "Washington: Symbol and City" exhibit, which opened a decade ago. "It's amazing how fast things have changed in Washington [since then]," Moeller marvels.
Moeller, who's been essentially out his entire professional career, says he hasn't encountered much homophobia in either the museum or architectural worlds beyond "some mild gay slur or whatever" in his early career days. "Many people who go into museum work tend to be inquisitive and open to new ideas. I think those people tend to be open-minded and accepting," he reasons. "[And] architecture as a design-oriented profession … has tended to be a more accepting environment for gay people for a long time."
Still, incorporating gay elements into major museum exhibits is, while increasingly acceptable, a relatively recent development. Moeller notes that the Building Museum's current "House & Home" exhibit, which surveys both the concept and the physical reality of where Americans live, includes a video featuring a same-sex couple and the modular house they call home.
When asked if his being gay informs his professional interests or ideas, Moeller says only indirectly – helping him think more broadly about the roles of minorities in general, and the benefits of diverse representation.
Naturally, the question also provokes an anecdote drawing on his knowledge of Washington architecture. "One of the little fascinating subtexts of Washington architectural history," Moeller says, "is how many women exercised a hugely influential role in the development of the city, often at a time when they had very few rights. They couldn't even vote, and yet these women were having a huge impact on the look of the city."
"I'm always on the lookout," he continues, "to make sure anything we do is appropriately representative of the whole range of people out there, as much as possible."
Even those, say, who just want to putt-putt.
The National Building Museum is located at 401 F St. NW. Admission is $8, or free for members; membership starts at $50. Mini-golf costs an additional $3 per person, per round. For more information, call 202-272-2448 or visit nbm.org.