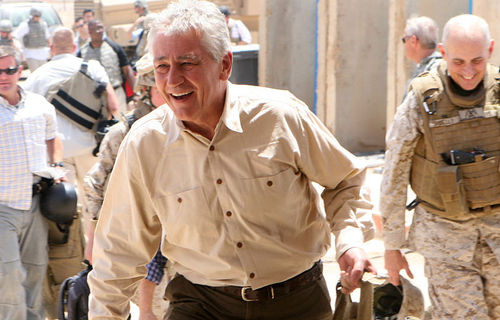 Facing the ire of LGBT-rights activists, former Sen. Chuck Hagel apologized today for anti-gay comments made in 1998 that surfaced yesterday.
In a statement provided to Politico, Hagel affirmed his commitment to open service and LGBT military families.
"My comments 14 years ago in 1998 were insensitive. They do not reflect my views or the totality of my public record, and I apologize to Ambassador Hormel and any LGBT Americans who may question my commitment to their civil rights. I am fully supportive of 'open service' and committed to LGBT military families," Hagel said.
Hagel has faced increased criticism from LGBT groups as his name continues to be floated as President Barack Obama's next secretary of defense. In 1998, The Omaha World-Herald reported on Hagel's criticism of President Bill Clinton's appointment of James C. Hormel as ambassador of Luxembourg, which warranted his apology today.
"Ambassadorial posts are sensitive," Hagel said at the time. "They are representing America. They are representing our lifestyle, our values, our standards. And I think it is an inhibiting factor to be gay — openly aggressively gay like Mr. Hormel — to do an effective job."
Ultimately confirmed despite Republican opposition, Hormel was the first out ambassador to represent the United States.
In 1999, Hagel also voiced opposition to repealing "Don't Ask, Don't Tell," stating, "The U.S. armed forces aren't some social experiment."
With many speculating whether the Nebraska Republican's views had evolved since he left the Senate in 2009, advocates accepted Hagel's apology.
"Senator Hagel's apology and his statement of support for LGBT equality is appreciated and shows just how far as a country we have come when a conservative former Senator from Nebraska can have a change of heart on LGBT issues," said Human Rights Campaign President Chad Griffin in a statement provided to Metro Weekly. "Our community continues to add allies to our ranks and we're proud that Senator Hagel is one of them."
Griffin added, "The next Defense Secretary should get off to a fast start and ensure LGBT military families have access to every possible benefit under the law. Every day these families continue to face unfair treatment and the Secretary can take meaningful action to remedy this discrimination."
Yesterday, Griffin called on Hagel to repudiate his comments, describing them as "unacceptable."
Hagel also faced criticism from OutServe-SLDN. In a statement, Allyson Robinson, executive director of OutServe-SLDN, said, "We are pleased that Senator Hagel recognized the importance of retracting his previous statement about Ambassador Hormel and affirming his commitment to Don't Ask, Don't Tell repeal and LGBT military families. We look forward to learning more about his commitment to full LGBT military equality as this confirmation process unfolds."
Although Hagel earned a reputation as an independent after becoming one most vocal Republican defectors to criticize President George W. Bush for the war in Iraq, his record on LGBT rights is in line with some of the most conservative members of the Republican Party. He consistently voted against legislation that would have expanded hate-crime protections to LGBT Americans. According to the Human Rights Campaign Congressional Scorecard, he earned a 0 percent for the 107th, 108th and 109th sessions of Congress. During the 110th session of Congress, Hagel earned a 20 percent due to his vote to reauthorize the President's Emergency Plan for AIDS Relief (PEPFAR), which, among other things, lifted the ban on HIV-positive visitors and immigrants.
Hagel's apology for calling Hormel "openly aggressively gay" gives further credence to speculation that Hagel will replace Leon Panetta as head of the Pentagon, although the White House has continued to decline comment on whether he is being considered for defense secretary. Following Hagel's apology, a White House official reiterated that there were no new personnell announcements to make.
Press secretary Jay Carney has defended Hagel in recent weeks as Hagel has faced criticism not only for his positions on LGBT issues, but also comments he has made about Israel.
"The president thinks very highly of Sen. Hagel," Carney said at a Dec. 13 press briefing. "I think a lot of people in Washington and around the country, and especially in Sen. Hagel's home state, think very highly of him. But I have no news to make for you on that process."
UPDATE: James Hormel responded to Hagel's apology late Friday, questioning the sincerity of Hagel's remarks. Speaking to The Washington Post's Greg Sargent, Hormel said he has not heard from Hagel. "I thought this so-called apology, which I haven't received, but which was made public, had the air of being a defensive move on his part," he said.
Hormel added that Hagel's apology seemed like it was "only in service of his attempt to get the nomination."
In a post on his Facebook page, Hormel appeared to be more accepting of Hagel's apology.
Senator Hagel's apology is significant–I can't remember a time when a potential presidential nominee apologized for anything. While the timing appears self-serving, the words themselves are unequivocal–they are a clear apology. Since 1998, fourteen years have passed, and public attitudes have shifted–perhaps Senator Hagel has progressed with the times, too. His action affords new stature to the LGBT constituency, whose members still are treated as second class citizens in innumerable ways. Senator Hagel stated in his remarks that he was willing to support open military service and LGBT military families. If that is a commitment to treat LGBT service members and their families like everybody else, I would support his nomination.
[Photo: Chuck Hagel visits troops in Iraq in 2008 (Courtesy of Lance Cpl. Casey Jones/Wikimedia Commons).]