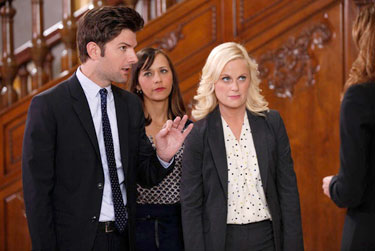 "Parks and Recreation" stars Adam Scott, Rashida Jones and Amy Poehler
Long derided as the inferior art, television has achieved something of a renaissance in recent years, with a glut of incredible, unmissable series making their way into our living rooms. Fall is the testing ground for shows that eventually worm their way into the public consciousness – and, hopefully, our hearts – with new series living or dying on their ability to entertain and captivate their audience, and then hold them through 13 or 24 episodes.
This fall, the major networks are delivering hundreds of new episodes to attempt to capture our viewing hours, but with so much choice, how can you possibly choose what to watch? We've sifted through every show, new and returning, to offer you 15 highlights that should be included on everyone's weekly viewing schedule. You won't see perennial favorites such as Mad Men or Breaking Bad, as they air over summer, nor midseason replacements such as Smash, but there's something for everyone in our 15-strong list, so jump in and start experiencing the best of this season's TV.
The New Normal
Tuesdays, NBC
THE FIRST NEW show of the season on our list is also the most topical. The New Normal is a comedy focused on Bryan (Andrew Rannells) and David (Justin Bartha), a happy Los Angeles couple who begin to yearn for a child. Enter Goldie (Georgia King), a single mother recently moved to L.A., seeking to provide a better upbringing for her daughter. The couple hire her to provide surrogacy for their child, and in return commit to helping her achieve her dreams of becoming a lawyer. Goldie's homophobic grandmother Jane (Ellen Barkin) follows her to L.A., and naturally becomes involved in the pregnancy.
It's a fairly by-the-books set-up, with the best lines reserved for Goldie's grandmother, but what's here has promise to evolve into something that sits proudly among NBC's other single-camera comedies (the less said about multi-camera Whitney, the better) and it's extremely encouraging to see such positive gay characters on network television. Normal is the brainchild of Ryan Murphy, infamous for creating – and then subsequently ruining -– Glee, which he helped turn into a self-indulgent monster. Here's hoping he fares better with Normal.
The New Normal isn't the fall's only gay-themed comedy. CBS premieres Partners on Monday, Sept. 24, at 8:30 p.m., but apart from morbid curiosity, I strongly urge you not to subject yourself to it. Featuring tired, tried-and-true CBS sitcom tropes – laugh track, unsubtle humor, a general feeling that you should be watching something better – it's based on the lives of its creators Max Mutchnick and David Kohan, who also created Will and Grace. Don't expect the same cultural impact here. Instead, watch The New Normal and feel better about yourself.